Happy Earth Day!
The Earth Day Network has a goal of A Billion Acts of Green, and it got me thinking of what I can do above and beyond what I already do, today and ongoing.
I am happy to live in an area where recycling has always been the norm. Back in college I was vacationing in… three southern states, and remember being shocked at the lack of recycling – even of the basics like aluminum cans and newspaper. It's a huge eye opener, and I shudder to think one day we will have a real life Idiocracy on our hands – mountains of landfill.
I could go on and on about how the foreshadowing of Idiocracy scares me, but that is a whole other blog.
today my pledges include:
- walking to meet my sister for dinner this evening.
- spending very little time on the computer today, television will be off.
- spend much of my time outdoors to take advantage of natural light and conserve our electricity.
- start planning my vegetable garden – I hope to be planting soon!
These Earth Day chocolate peanut butter cups were inspired by
the world cupcakes Kris made last week – aren't they so cute? I thought they were a great idea!
Earth Day Chocolate Peanut Butter Cups
makes 12-14 depending on wrapper size
1 bag chocolate chips (trader joes dairy free)
1 bag white chocolate chips (vegansweets)
1/2 cup peanut butter
food color (seelect is vegan + gluten free)
Melt chocolate in double boiler or microwave. Fill candy cups 1/3 full, coating the insides of the wrapper to the top. Cool in fridge until set. Spread a spoonful of peanut butter almost to the edge of the wrapper. Melt white chocolate, reserving 1/3 for final step. Pour white chocolate over peanut butter layer, smoothing and covering completely. Return to fridge to cool. Separate remaining white chocolate into two bowls, coloring one green and one blue. For the last layer, swirl greens and blues to make earth shapes.
first layer chocolate, all the way up the sides: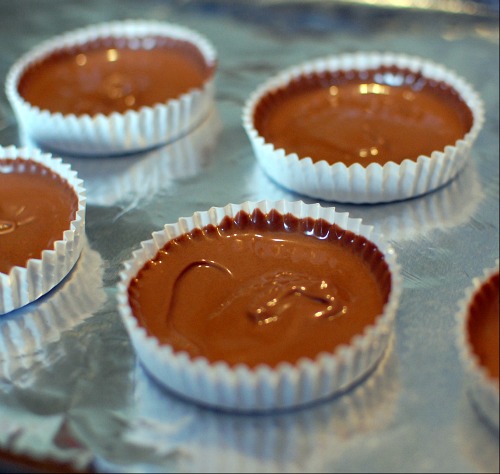 second layer peanut butter, almost to edges: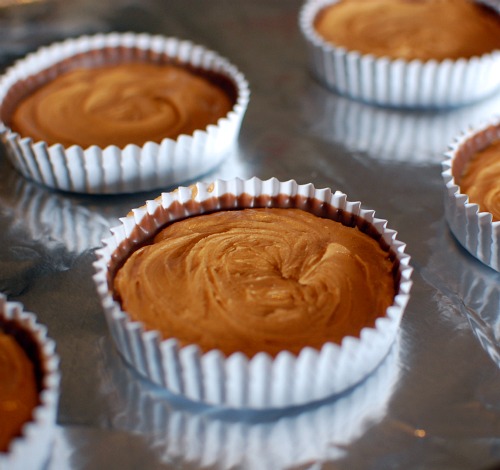 third layer, white chocolate covering completely:
unwrapped:
yum:
Heidi also had a great post about Earth Day, including quotes and links – there is a lot of good in her post!
My favorite? Every Day is Earth Day.
What can you do today (and every day!) to celebrate Earth Day and help protect our planet?